MCLS 2019 will be held at Carleton University in Ottawa, Canada.
CAMPUS
Carleton University is a 15 minute drive from downtown Ottawa.
The conference will be held in the Richcraft Building (posters, presentations, registration, lunch) and in the Tory Building (Rooms 446 and 447; presentations).
For a more detailed walking map click HERE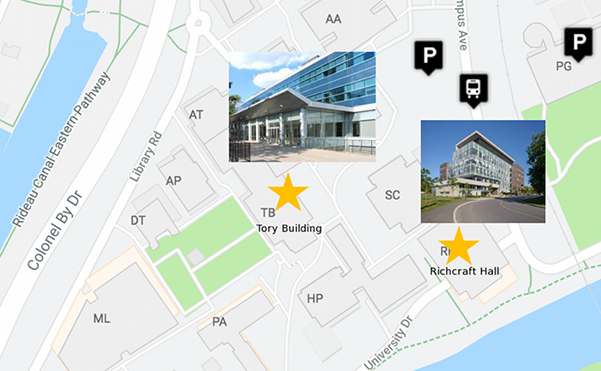 Suggested Locations to Continue the Conversation After Hours
Following the poster session on Sunday, attendees are encouraged to continue the discussion over food and drinks at the Cameron (176 Cameron Avenue), roughly a 15-minute walk from Richcraft Hall. We have reserved some space at the restaurant, but you will need to cover your own costs. Friends and family members are welcome!
The Cameron (Old Ottawa South)

Casual restaurant in a tennis club

Patty's Pub (Old Ottawa South)
Quinn's Pub (Old Ottawa South)
Black Squirrel Books (Old Ottawa South)
Belmont (Old Ottawa South)

More upscale restaurant (Reservations recommended)

Bridgehead Coffee (Old Ottawa South)
Craft Beer Market (Lansdowne)

Casual restaurant with over 100 beers on tap

Kettleman's Bagel Co. (Bank St. near Lansdowne)

Montreal style bagels. Open 24 hours!

Local Lansdowne (Lansdowne)

A pub with games and a patio

Clocktower Brewpub (The Glebe)

Ottawa's original craft brewery

Pub Italia (Little Italy)

Extensive beer list, the 'Beer Bible
TOURISM
The area closest to the university (on the way to downtown) is Old Ottawa South. The area just north of there is the Glebe. The Byward Market area is downtown.
You can check out Tourism Ottawa's Visitor Guide!
Please note that on Sundays, many roads are closed to allow for car free running and cycling, including Colonel By which is right by Carleton: http://ncc-ccn.gc.ca/places/sunday-bikedays
Sightseeing and Other Activities
Museums
Ottawa is the capital of Canada so there are many museums and other cultural activities.
Shopping
CF Rideau Centre

CF Rideau Centre is Ottawa's leading shopping destination and home to the biggest names in fashion and beauty.

Local Shops

Byward Market

Local shops such as Milk, Roadtrip, Zone, and Paper Papier are unique to Ottawa and can be found in the Byward Market.

The Glebe

Shops such as The Papery, Glebe Trotters, and many more local favourites can be found along Bank Street in the Glebe.

Elgin Street

Elgin Street is home to many local shops such as Boogie and Birdie the Gifted Type.
Public Transportation
OC Transpo

Ottawa's public bus transportation system. A single ride costs $3.50, or full-day packages can be purchased.

1 day = $10.50

3 days = $25.75

5 days = $41.25

The bus "7 Carleton" stops at Rideau 3A, one block away from Novotel and The Westin. This bus will bring you right to Carleton campus! The bus ride will be approximately 30 minutes.

The "7 Carleton" also stops at Bank and Slater, only half a block from the Alt Hotel. The "10 Rideau" stops at Parliament B, about one block from the Alt Hotel. Both of these buses will bring you to Carleton campus. The bus ride will be approximately 20-25 minutes.

Uber and Lyft

Convenient and inexpensive taxi services linked to the respective app on any smartphone device.

Taxi Services

Capital Taxi Ottawa: (613) 744-3333

Blue Line Taxi: (613) 238-1111